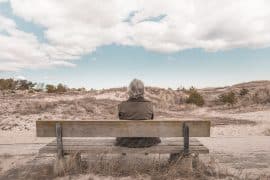 Aging parents and depression. What does this phrase mean to you? Hint: It's not about how depressed we feel to watch our mother and father decline. Senior citizens often face late-onset depression. We must stay aware of this and be prepared to act. First, we must watch for some of the more common symptoms. Here are some examples:
Decreased concentration and focus

Difficulty making decisions

Chronic crankiness, agitation, and irritability

Low energy

Slow movements and/or speech

Memory issues

Noticeable changes in eating and sleeping habits

Weight loss or gain

Losing interest in people or things they once enjoyed

Becoming isolated and withdrawn

Avoiding social contact

Talking of death and/or suicide
The combination of aging parents and depression can be a major challenge. But you can help, a lot, if you remain aware and committed.
9 Ways You Can Help Your Aging Parents Deal With Depression
1. Don't fall back on the "it's just part of aging" explanation
If we perceive our parents' symptoms as "normal," we won't take the appropriate action. Sure, signs of aging are real. This doesn't mean everything older adults do is a result of their age. Observe them. Listen to them. Never dismiss symptoms that feel different or alarming.
2. Educate yourself about depression and its treatments
Remember that depression is an illness. Put in the time to learn precisely what this means. Study the symptoms and causes. Comprehend the importance of the different treatments. Recognize the urgency of taking action.
3. Persuade them to be more socially active
Isolation is not the same as solitude. Yes, your parents need their space. But they also need to socialize with their peers. Perhaps there's a local community center they can visit. Help them arrange outings and other social plans. More and more health clubs now offer senior citizen discounts and programs.
4. Talk to them about the benefits of exercise
Speaking of gyms, your parents need to sweat. When someone feels tired, it can take some work to convince them that movement will energize them. Try going to the health club with them. Another option is to hire a personal trainer who specializes in senior fitness.
5. Improve your listening skills
This is tricky. These are your parents, after all. There's plenty of baggage to deal with. And plenty of long-term patterns to address. Guess what? You have to learn to listen to them with new ears. Your parents have entered a puzzling new phase of their life. They deserve an open mind. Choose empathy and compassion.
6. Tell them about people who have recovered from depression
Hope is essential. Older adults with depression may feel worthless and hopeless. Therefore, it's important to inspire them. Let them know they can and will heal, like others  before them.
7. Help them without taking over their lives
If you have children, you may casually fall back on treating your parents in the same manner. Resist that temptation. Your parents need help. They don't need a boss or a dictator. Be patient with yourself and you will discover the right balance.
8. Take care of yourself
I discussed this in an earlier post but it bears repeating. If we care for ourselves then we can better care for others. Don't try to be a superhero. Just be the best version of you.
9. Encourage them to try therapy
Your aging parents and depression will be a challenge. Your parents may try their best. You may be there to help them. Yet, sometimes you'll need assistance from a trained counselor. Initially, you might start with a suggestion. Perhaps you can provide some reading material. Don't give up. Be patient and consistent.
---
For help in navigating the emotional challenges of caring for aging parents. please contact our intake team at the Center for Mindful Psychotherapy: call us at (415) 766-0276; or email us at intakes@mindfulcenter.org.