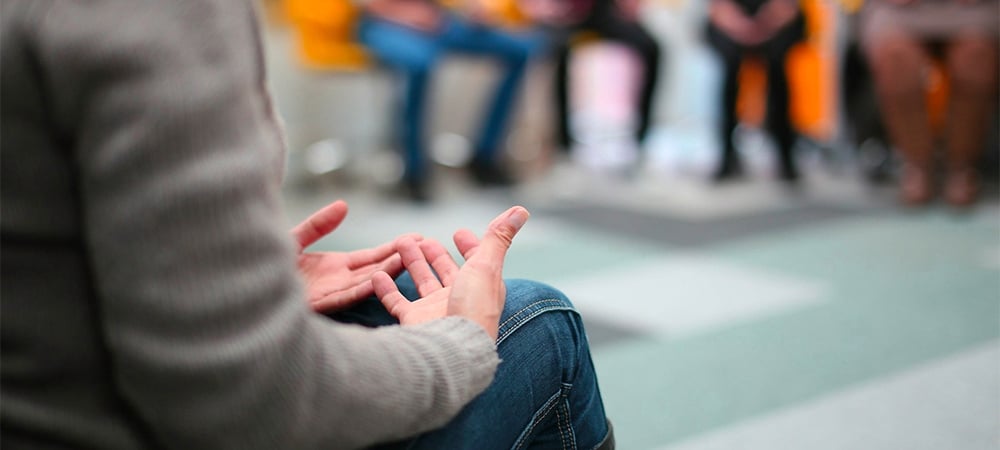 "MEMBERS OF A COHESIVE GROUP FEEL
WARMTH AND COMFORT IN THE GROUP
AND A SENSE OF BELONGINGNESS;
THEY VALUE THE GROUP AND FEEL IN TURN
THAT THEY ARE VALUED, ACCEPTED, AND
SUPPORTED BY OTHER MEMBERS."
― IRVIN D. YALOM, THE THEORY AND PRACTICE OF GROUP PSYCHOTHERAPY
Depending on the nature of your concern, group therapy can be an ideal choice for addressing your concerns and making positive changes in your life. Below you will be able to see what sort of groups are currently available through Center For Mindful Psychotherapy. But first let us explain what group therapy is!
WHAT IS GROUP THERAPY?
Group therapy involves one or more therapists who lead a group of roughly 5 to 15 members. Typically, groups meet for an hour or two on a weekly basis. Some groups meet ongoing and some are for a designated amount of time only. At times, people attend individual therapy in addition to groups, while others participate in groups only.
Many groups are created to focus on a specific problem, such as depression, gender identity, social anxiety, eating disorders, substance abuse, or grief & loss. Other groups focus more generally on improving social skills, helping people deal with a range of issues such as anger, chronic illness, loneliness, and low self-esteem.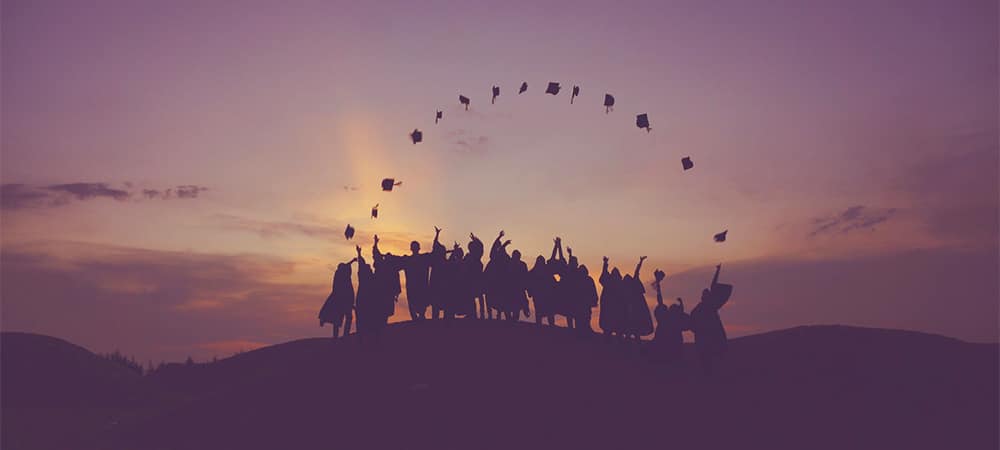 HOW CAN GROUP THERAPY SUPPORT ME?
If you're longing for a supportive community, group therapy is a great option! Joining a group of strangers may sound overwhelming, but group therapy provides benefits that individual therapy may not. Having others witness your story, and support you through your struggle, can be a uniquely healing experience. Groups can also act as a sounding board, offering insight into challenges from individuals who can relate.
Many people experience mental health difficulties, but few speak openly about them. Oftentimes, you may feel like you are the only one struggling — but you're not. It can be a relief to hear others discuss what they're going through, and realize you're not alone.
Diversity is another important benefit of group therapy. People have different personalities and backgrounds, and therefore look at situations in different ways. By seeing how other people approach their healing journeys and make positive changes, you can discover a whole range of strategies for facing your own concerns.
CURRENT GROUPS OFFERED BY CMP THERAPISTS:
BIPOC* Adult Pay-As-You-Wish Telehealth Group
Black, Indigenous, &/or People Of Color. White-passing & mixed-race BIPOC welcome.
1 session/week

90-minutes

California residents

online video-chat

pay-what-you-may

ages 21+

Tuesday 6-7:30 PM

8-10 members, first two weeks accepting members till capacity reached; waitlist thereafter.

Centering Asian experiences, pandemic, & re-balancing in community amidst imbalances in society; co-facilitated*
1 session/week

90-minutes

California residents

online video-chat

pay-what-you-may

8-10 members

ages 21+

Tuesday 8:30-10 PM

first two weeks accepting members till capacity reached; waitlist thereafter.

Centering BIPOC experiences, pandemic, & re-balancing in community amidst imbalances in society; co-facilitated**
FOR MORE INFO / TO RSVP: https://tinyurl.com/Signup4Group
GROUP FACILITATORS: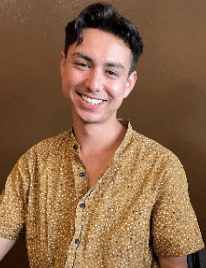 About Will (He/Him):
Will Lipsenthal is a passionate and caring therapist living in the Bay Area (Miwok and Ohlone land). Raised by a Taiwanese mother and a Jewish father, Will is familiar with walking the walk of an individual of multiple cultures. He is passionate about identity and one's relationship to themself as well as with other's. By working in a way to increase client's own awareness, Will has found his therapy practice to feel alive, meaningful, and powerful. He utilizes therapeutic approaches ranging from gestalt, somatic, existential, multi-cultural, and integrative practices. Outside of the therapy room, Will can be found eating spicy food, watching movies or sports, and spending time in the outdoors. Registered Associate MFT #120426 at The Bay Area Gestalt Institute, supervised by Kyle Karen McMahan LMFT #52259
About Christhmus (pronoun at your pleasure):
Christhmus Presence (Chris Chu) is a 3.5-generation Muwekma Ohlone (San Francisco) land-settler, and Chinese-American Queer by Ancestors' way of Guangdong, China. Pillars that guide them are liberation psychology, narrative psychology, somatic psychology, trauma-informed therapy, spirituality, and expressive arts. Tools held in support of self-resourcing, clarity, and ancestral connectivity include meditation, Tapping, and Brainspotting. They enjoy plants, creative expression, the power of community, and being in water.
Registered Associate MFT #125037 at the Center for Mindful Psychotherapy, supervised by Shawana Booker LCSW #29165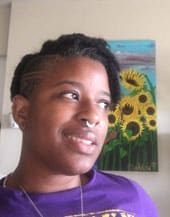 About AMJ (they/them/their):
AMJ ASW is a queer, disabled, nonbinary Black femme descendant of Africans who were enslaved in the Southeastern United States and ultimately settled in Low Country/Gullah Geechee/Lower Creek/Yamasee lands (Savannah, GA). They are a "coachy therapist", focused on helping (QT)BIPOC blend ancestral healing traditions with therapeutic approaches such as Brainspotting, healing-centered (aka trauma-informed) therapy, expressive arts, aromatherapy, and problem-solving. AMJ resides in San Pedro and takes care of self via gardening, music, food, and their adorably snarky doggo named Dilla.
---
Couples Therapy Group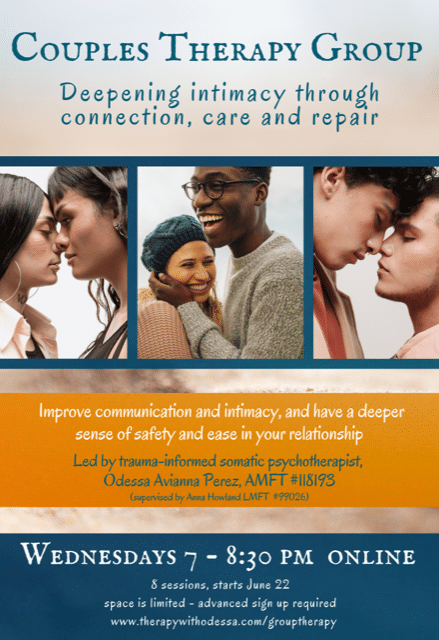 Deepening intimacy through connection, care and repair
WEDNESDAYS 7 – 8:30 PM ONLINE
STARTS JUNE 22, 2022
For California-based couples who want to improve communication and intimacy, and have a deeper sense of safety and ease of connection in their relationship.
Using Stan Tatkin's Psychobiological Approach to Couples Therapy (PACT), attachment theory, polyvagal theory, interpersonal neurobiology, somatics, touch, and mindfulness, we'll spend 8 weeks exploring your relationship in a group setting.
Group focus and themes:
Explore your dynamic as a couple and identify the patterns and cycles of your challenges.
Understand how some of you and your partner's behaviors can create insecurity and instability in your relationship, and what a secure relationship looks and feels like.
Learn how to be in each others care (and how this is different than codependence)
Improve your communication skills to navigate conflict more successfully
Gain tools and practical skills to enjoy a happier, healthier and more easeful relationship
Schedule
Wednesdays, 7pm – 8:30pm, online
8 weeks total
June 22, 29
July 6, 13, 27
August 3, 17, 24
Group is facilitated by Odessa Avianna Perez (Associate Marriage and Family Therapist #118193) – a trauma-informed somatic psychotherapist and a level 1 trained PACT therapist.
Due to the nature of the work, full commitment to the entire 8 weeks is required for registration.
Investment
$640/couple for the full series
($80/session/couple, or $40/session/person)
Full fee must be paid in advance to reserve your spot.
Fee may be paid together ($640) or separately ($320 per person)
Credit cards accepted.
Interested? Schedule a free consultation call to see if this group is a good fit for you.
GROUP FACILITATOR:
Odessa Avianna Perez:
Group is facilitated by Odessa Avianna Perez (Associate Marriage and Family Therapist #118193) – a trauma-informed somatic psychotherapist and a level 1 trained PACT therapist.
---
Survivors Rising: for Male Identified Survivors of Sexual Trauma

GROUP SIZE: 6-8 members
DATE: Begins early October
TIME: Sunday afternoons and/or weekday evenings once weekly for 8 weeks
LOCATION: online via Zoom
FEE: $55 per group or $440 for all. Partial scholarships available for those in need!
REGISTRATION: rory@hasitherapy.com or call (831) 216-8708
GROUP FACILITATOR: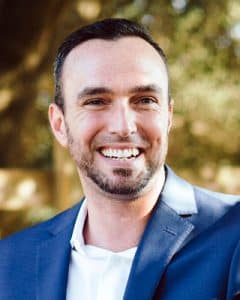 Rory Valentine Diller at the Center for Mindful Psychotherapy
Associate Marriage and Family Therapist # 115695
Supervised by Shirley Bar-Dvir, LMFT #94258
Pronouns: He/ Him, They/ Them
Phone: (831) 216-8708
Email: rorydiller@mindfulcenter.org
Web: www.hasitherapy.com
The New Mamas Support Group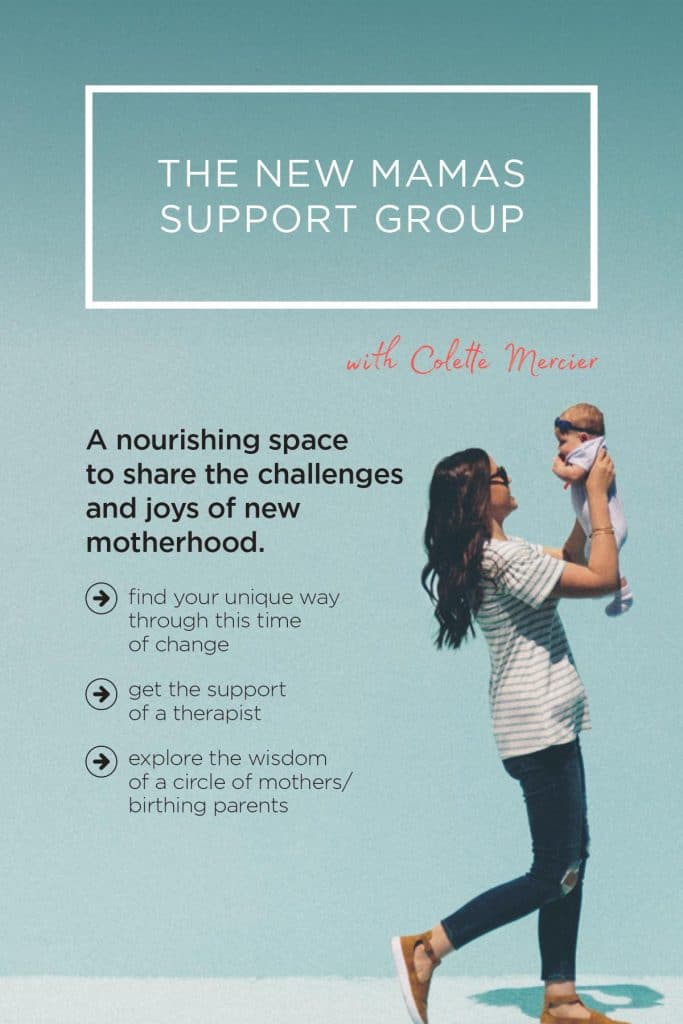 A nourishing space to share the new challenges and joys of new motherhood.
find your unique way through this time of change
get the support of a therapist
explore the wisdom of a circle of mothers/birthing parents
New motherhood can be challenging. It can be invaluable to hear from other new moms. You might feel isolated or overwhelmed, wondering if your experience is normal. Or maybe you just crave adult conversation. The group supports each person to find their own way. I bring 15+ years of experience as a midwife and you bring yours. Discussion topics include sleep, moods, postpartum sex, guilt and shame, our relationships with our own mothers, breast feeding, birth stories and more.
Details:
Meets every other Friday on Zoom from 11:30-12:30
Free & drop-in
Mamas with newborn babies up to 24 months welcome
babies and toddlers welcome
Group Facilitator:
Colette Mercier MA, Registered Associate Marriage and Family Therapist # 113237 & Licensed Midwife, LM 218. Supervised by Lily Rosman MFT #95520 & Shirley Dvir MFT #44258. Employed by Sonoma Counseling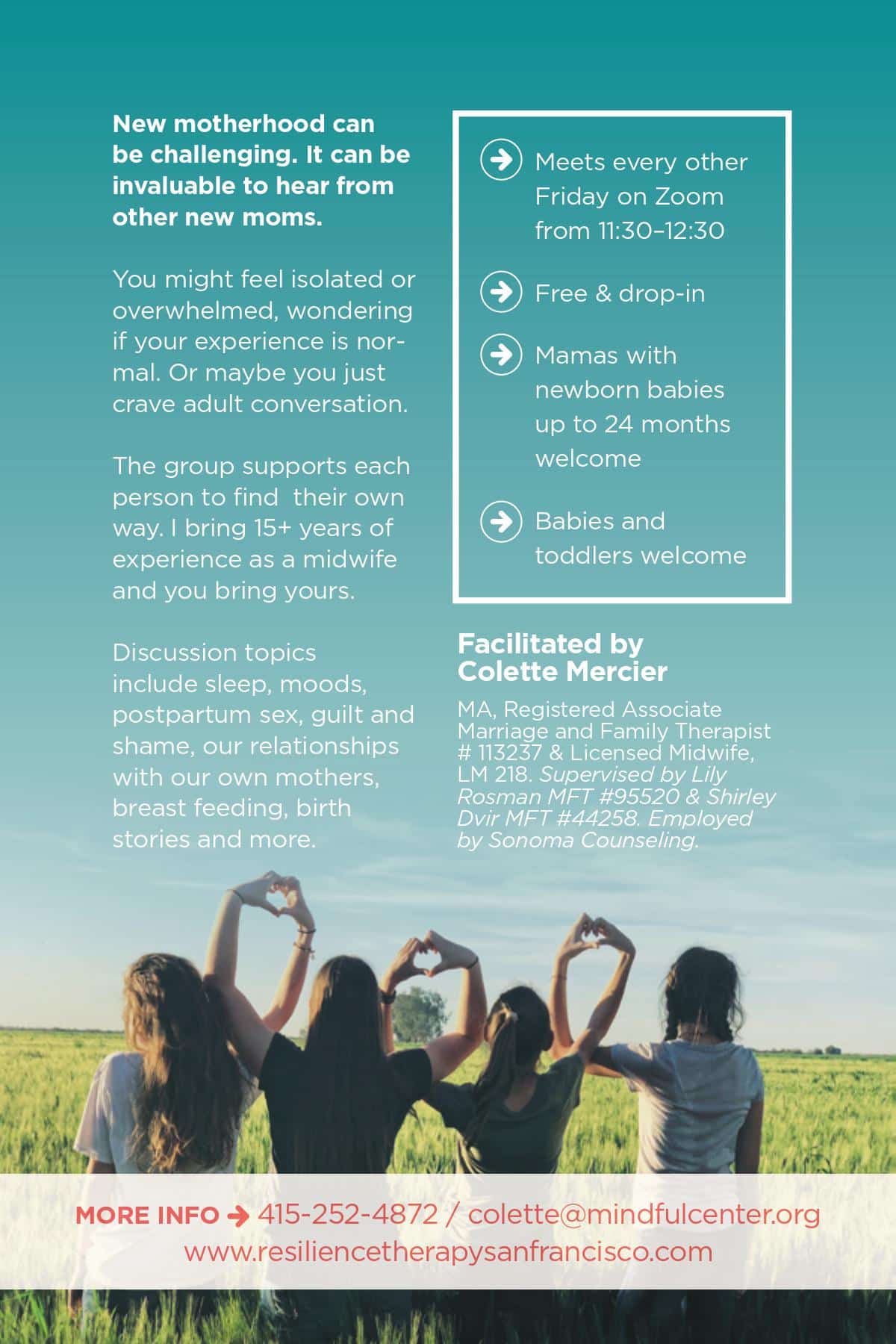 ---
PREVIOUS GROUPS OFFERED BY CMP THERAPISTS:
Support for Single Parents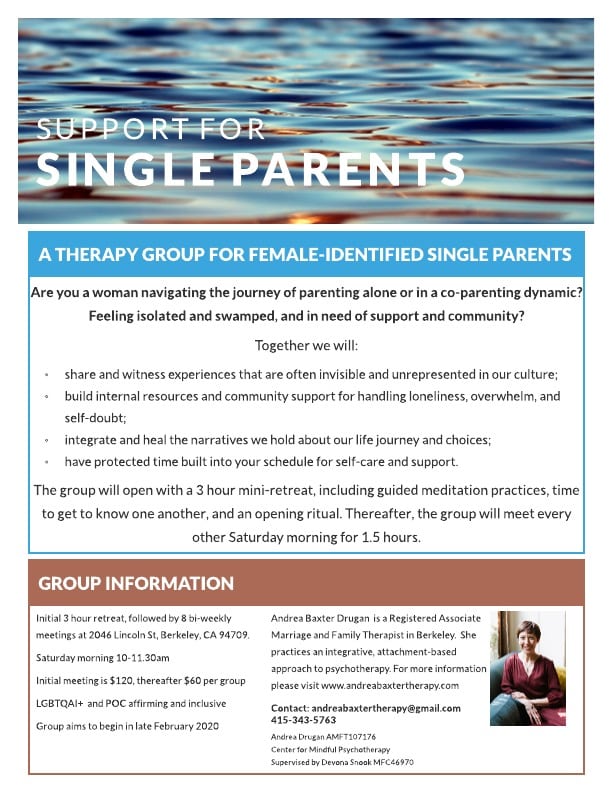 Are you a woman navigating the journey of parenting alone or in a co-parenting dynamic? Feeling isolated and swamped, and in need of support and community?
Together we will:
share and witness experiences that are often invisible and unrepresented in our culture;
build internal resources and community support for handling loneliness, overwhelm, and self-doubt;
integrate and heal the narratives we hold about our life journey and choices;
have protected time built into your schedule for self-care and support.
The group will open with a 3 hour mini-retreat, including guided meditation practices, time to get to know one another, and an opening ritual. Thereafter, the group will meet every other Saturday morning for 1.5 hours for 6 weeks.
Details
Initial 3 hour retreat, followed by 6 bi-weekly meetings at 2046 Lincoln St, Berkeley, CA 94709.
Saturday morning 10-11.30am
Initial meeting is $120, thereafter $60 per group
LGBTQAI+ and POC affirming and inclusive
Group aims to begin in Spring 2020
GROUP FACILITATOR: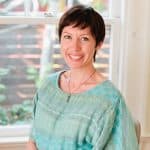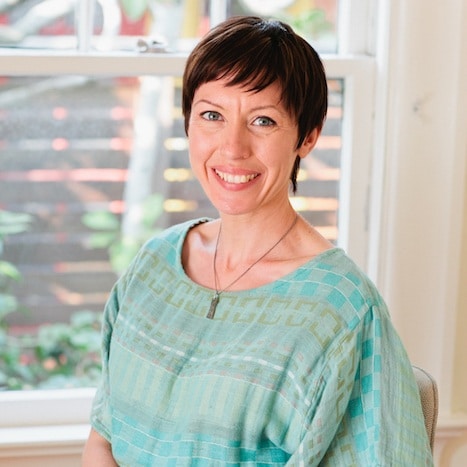 Andrea Baxter Drugan is a Registered Associate Marriage and Family Therapist in Berkeley. She practices an integrative, attachment-based approach to psychotherapy. For more information please visit www.andreabaxtertherapy.com
Contact : andreabaxtertherapy@gmail.com
415-343-5763
AndreaDrugan AMFT107176
Center for Mindful Psychotherapy Supervised by DevonaSnook MFC46970
---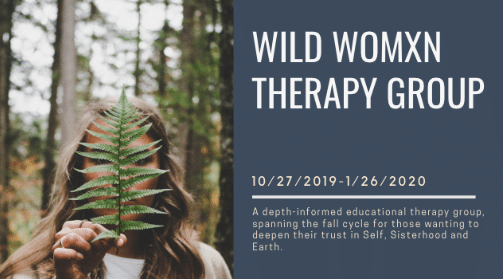 WILD WOMXN THERAPY GROUP
Re-wild, and reclaim your personal magick as we explore the Autumnal 'Descent' in Earth, Self and Mythos supercharged by the healing vitality of sisterhood.
A powerful marriage of modern, depth-informed group psychotherapy and ancient healing frameworks that harness the energy of Earth's cycles. Together, we will bring enchantment back into your sacred relationship with Earth.
Join us in a three month, depth-informed educational therapy group for womxn, spanning the Autumnal descent and re-emergence brought to you by Annalise Oatman, MA, LCSW, of Awake Therapy Space and Dana Marie Nielsen, MA and AMFT of Wild Woman Therapy and the Center for Mindful Psychotherapy.
FALL SCHEDULE:
Sunday 10/27: Opening Ritual Retreat 4:00-7pm
Monday 11/4: Zoom call 7:00pm-8:30pm
Monday 11/11 Zoom call 7:00pm-8:30pm
Monday 11/18 Zoom call 7:00pm-8:30pm
Sunday 11/24 Ritual Retreat 4:00-7pm
Monday 12/2 Zoom call 7:00pm-8:30pm
Monday 12/9 Zoom call 7:00pm-8:30pm
Sunday 12/15 Ritual Retreat 4:00-7pm
Monday 1/06 Zoom call 7:00pm-8:30pm
Monday 1/13 Zoom call 7:00pm-8:30pm
Monday 1/20 Zoom call 7:00pm-8:30pm
Sunday 1/26 Closing Ritual Retreat 4:00-7pm
*Retreat locations will be in person sessions in various sacred spaces and natural environments in the Bay Area. Transportation can be arranged.
FEE & REGISTRATION:
Three payments of $555 or one payment of $1665.
Non refundable deposit of $200 to hold spot through eventbrite link.
*A portion of funds will be donated to the Sogorea Te Land Trust to support Indigenous women-led wisdom practices to the Bay Area. https://sogoreate-landtrust.com/
GROUP FACILITATOR: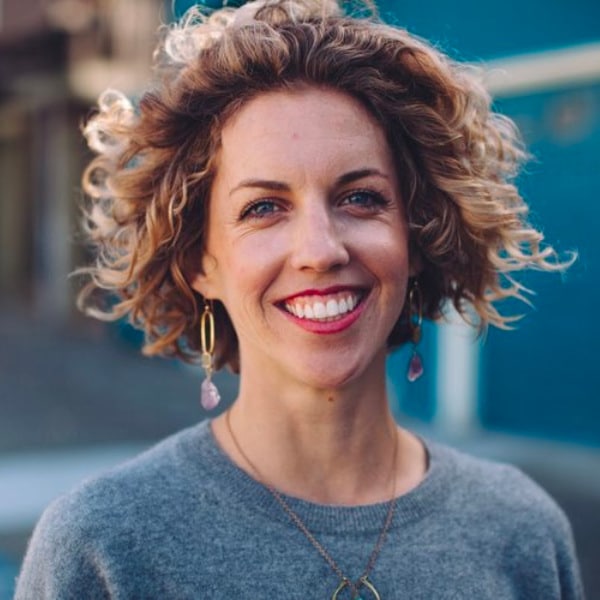 Dana Marie Nielsen
Registered Associate MFT #97764
Supervised by Natalie Small #92747
With: Annalise Oatman, LCSW# 88254
---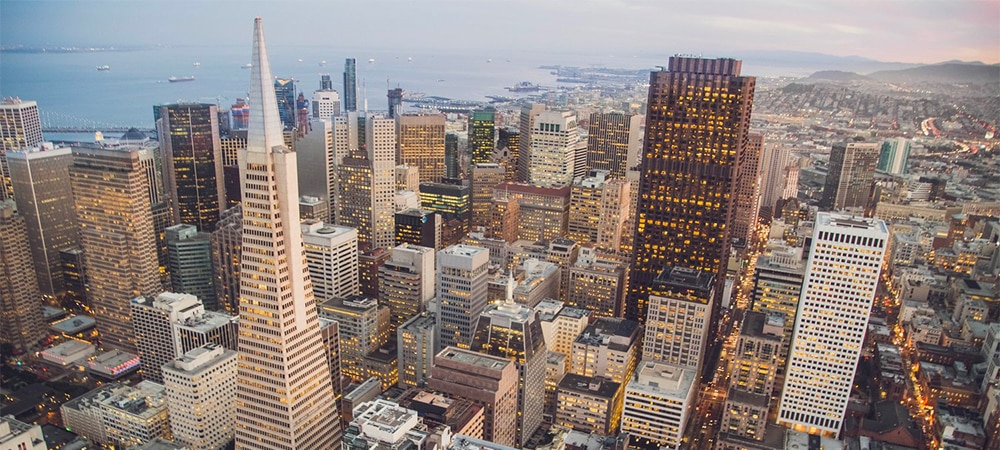 "COME AS YOU ARE" DRUG & ALCOHOL HARM REDUCTION GROUP
Drugs and alcohol can be messy and destructive if you lose control of your use. You may find that despite your best efforts you are experiencing thought and behavior cycles that are leading you to a place you don't want to be. In this dark place it can be overwhelming to know where to look for support. For many drug and alcohol users, groups have been found to be extremely helpful in maintaining motivation, holding accountability, and building supportive relationships in community as you work to come to right relationship with mind altering substances.
"HARM REDUCTION IS A SET OF PRACTICAL STRATEGIES AND IDEAS AIMED AT REDUCING NEGATIVE CONSEQUENCES ASSOCIATED WITH DRUG USE." FROM "PRINCIPLES OF HARM REDUCTION" HARM REDUCTION COALITION
The Harm Reduction philosophy holds a "Come As You Are" attitude towards drug and alcohol group support. At any stage in your use, Harm Reduction aims to meet you where you are at and help you reduce any harm you may experiencing through your drug and alcohol use. This could mean moderation, abstinence or other strategies, depending on your specific goals. With Harm Reduction you set your own definition of success in your relationship with alcohol and drugs. The group will help you to come up with strategies and approaches that will help you meet your goals, and will hold you accountable and motivated to stay on track.
In our Harm Reduction group we will:
Learn strategies and tools to reduce harm caused by drug and alcohol use.
Share our stories and find support in community.
Set goals and hold each other accountable.
Process difficult emotions that may be underlying causes of addiction in a group setting.
Build supportive relationships in community.
Create a safe space to talk about addiction and alcoholism.
DETAILS
GROUP SIZE: 4 – 8 members
DATE: New cohort starts Fall 2019
TIME: Sundays AM
LOCATION: 110 Gough St. #402, San Francisco, CA, 94102
FEE: $50 per group + $140 for one time assessment session
REGISTRATION: Email: connor@mindfulcenter.org, or call: 510.929.1700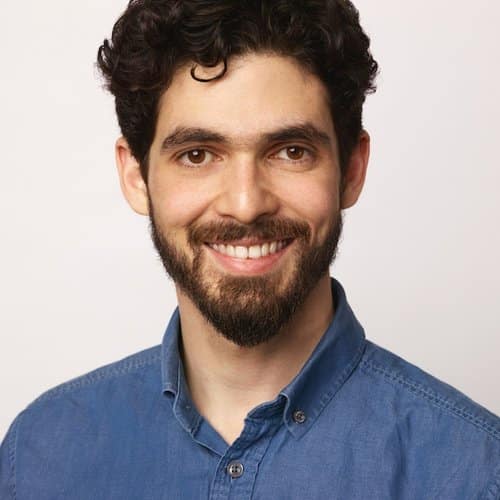 Group Facilitated by Connor Moss
---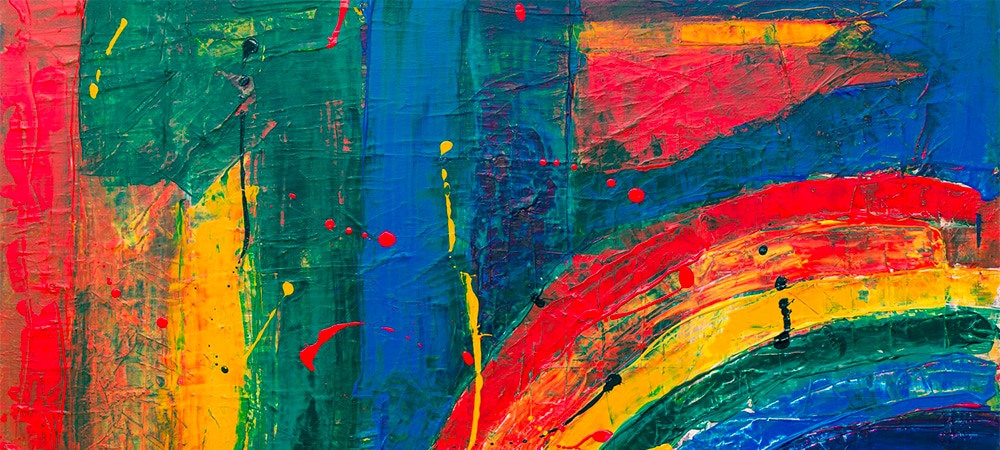 OVER THE RAINBOW: SUPPORT FOR EXPECTANT AND NEW PARENTS AFTER PREGNANCY LOSS
ABOUT: A rainbow is something beautiful after a dark and wild storm. A rainbow baby is a baby born after a miscarriage or stillbirth. Similarly to how the beauty of the rainbow will not undo the damage a storm might have done, a rainbow baby can bring joy and hope while the painful feelings of the loss might still linger. Many parents who have lost a pregnancy will experience fear of another loss, anxiety, confusion, guilt, and often a new layer of grief. They may also struggle with difficult emotions in the postpartum period. Community, compassion, and psychological education and attention are essential components of the healing process. This class offers parents with a rainbow baby a sense of community, as well as tools to acknowledge, communicate and work with their feelings.
Location: Natural Resources: 1367 Valencia St, San Francisco, CA 94110
Dates: Drop-in group every other month, see link for details
Fee: $35 non member, $25 for Natural Resources Members
Registration: Drop in or sign up here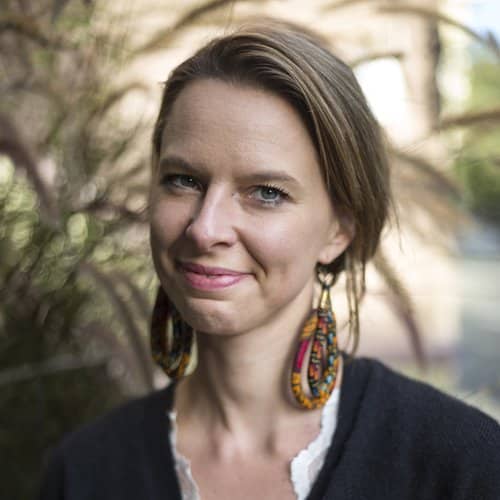 Group Facilitated by Jennifer Komm
---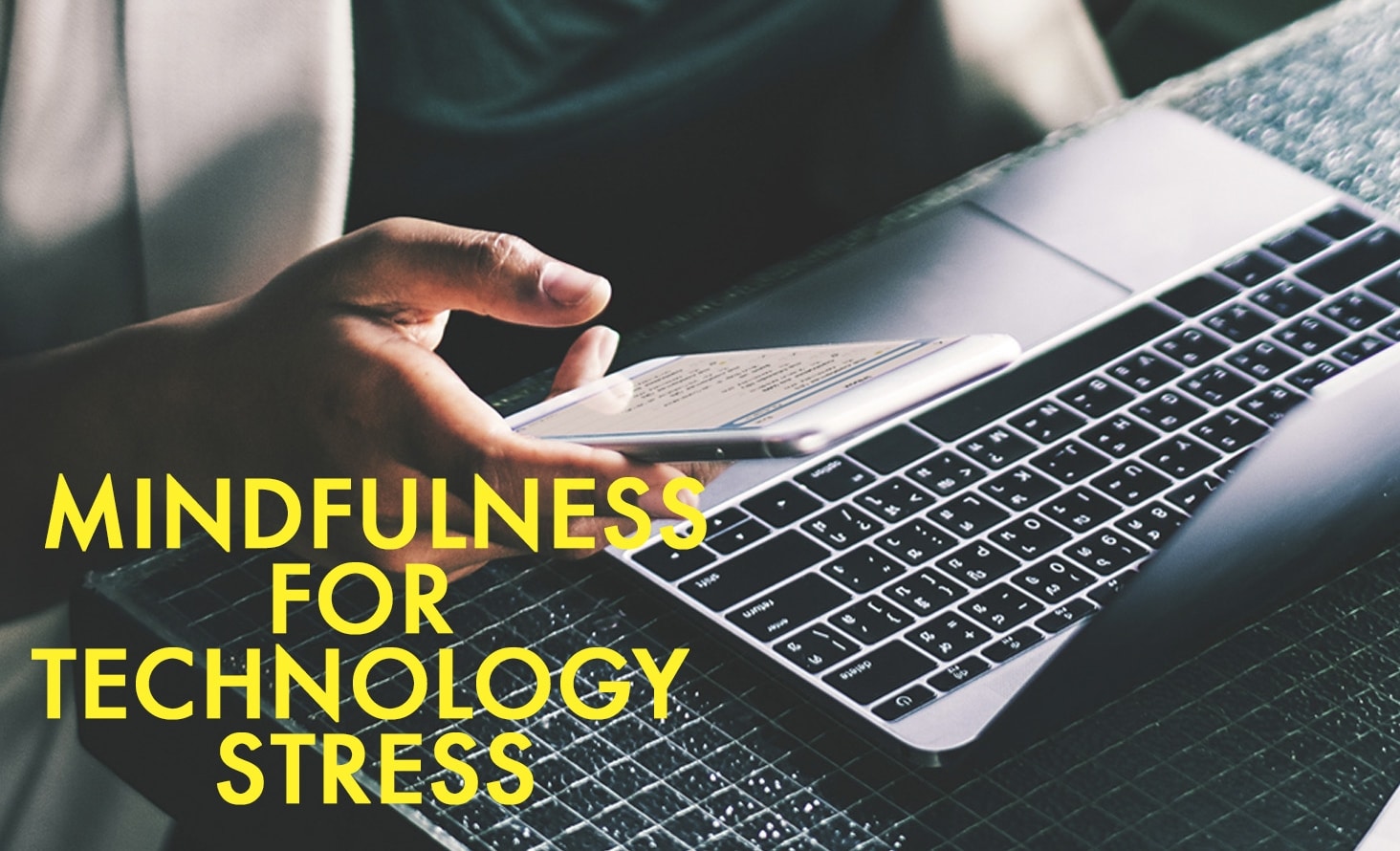 MINDFULNESS, COMMUNICATION & TECHNOLOGY
If we are not careful, it is all too easy to fall into becoming more of a
human doing than a human being, and forget who is doing all the doing,
and why. —Jon Kabat-Zinn
ABOUT: Humans really are wired for connection and, thanks to remarkable tech advances, many of us connect with an ever-increasing frequency throughout the day. If it sometimes feels like your connection to the sweet, shiny smartphone—the "black mirror"— is more compelling than you'd like it to be, this one-time group is an opportunity to spend a few hours
consciously exploring your relationship to technology and communication.
THE GROUP WILL INCLUDE:
Meditation instruction and practice
Discussion drawn from mindfulness teachings on skillful communication
A dip into some relevant neuroscience findings
A few practical offerings for hacking your relationship to the phone or laptop
Group size is capped at six participants, so there will be a chance to share thoughts and feelings about living a tech-laden life, as well as periods of silence and sitting meditation. (No meditation experience necessary: the group is suitable for new or experienced meditators.)
LOCATION: 110 Gough Street, Ste. 203 in San Francisco's Hayes Valley
DATE: Contact Julia for info about next group
TIME: 10AM-12:30PM
FEE: $50
REGISTRATION: Email julia@mindfulcenter.org or call (415) 562-5228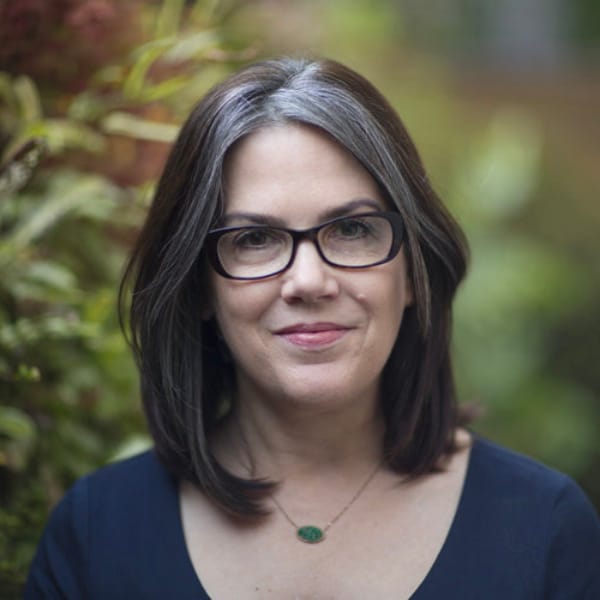 Group Facilitated by Julia Ward
---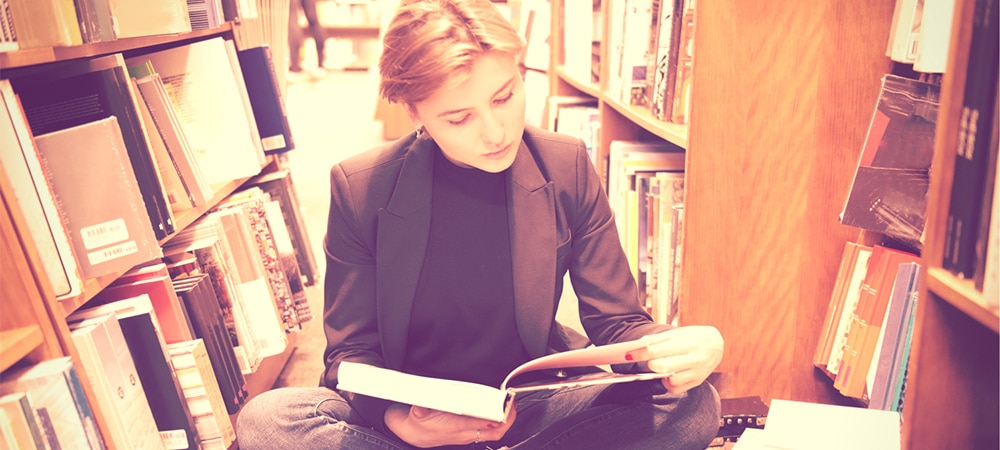 SHY CLUB: FOR QUIET TEENS & YOUNG ADULTS
ABOUT: Shy Club is an in-person group for teens and young adults of all genders.
What do you think of when you hear the word "shy"? Has this word been used to describe you? How accurate does it feel? What does shy mean to you? You may think of other adjectives that relate such as quiet, introverted, or reserved. Or, you may think of shyness as the opposite of being loud, outgoing, and boisterous.
Everyone's experience is unique, and being seen as "shy" can look a lot of different ways and mean a lot of different things; it's not a one-size-fits-all descriptor. Maybe you relate to being shy and don't carry harsh judgements about your experience.
Maybe you feel comfortable with yourself most of the time, but at times feel misunderstood by others. Maybe you have a lot to say, but aren't sure how to express yourself authentically. Maybe you'd like to discuss your experiences with other people who really get it.
Through the use of dialogue, mindfulness exercises, communication skill building and creative projects, Shy Club is about:
Being who you are and how you are.
Embracing your strengths and vulnerabilities.
Learning how to take care of yourself in a world that can sometimes feel shallow, overwhelming, or insensitive.
Increasing self-esteem and feeling more comfortable to be yourself around others.
Gaining confidence to use your voice and set boundaries.
Discovering tools to manage your deeply felt emotions.
If you're looking for a way to connect with yourself and others without all the pressure, Shy Club may be a great fit for you! Space is limited so email shyclub@mindfulcenter.org to sign-up!
GROUP OPTIONS: Ages 12-14, Ages 15-17 or Young Adults (18+)
LOCATION: 870 Market Street, Downtown San Francisco (above Powell Street BART)
TIME: Most groups meet Mondays or Thursdays from 5:30pm-6:30pm for 8 weeks.
FEE: $400-600 (wide sliding-scale to accommodate varied financial situations). Price includes one Intake Session and eight Group Sessions plus all materials.
REGISTRATION: Contact us at shyclub@mindfulcenter.org. We can't wait to meet you!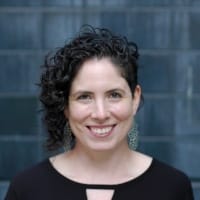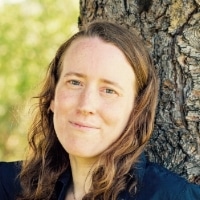 Group facilitated by Jessica Weikers and April Snow
We are here to help answer any questions about group therapy and guide you through the process of finding a therapist who may be able to help. Check out our [CMP FAQs] page if you have more questions about us. You may also start browsing [Our Team] to see if there is a therapist you are drawn to and would like to contact directly.
If you would like help in finding the best therapist fit for you, please call us (415) 766-0276. You can also go to [Contact Us] and fill out the form there, or email us directly at intakes@mindfulcenter.org.
---
🌱 Black, Indigenous, &/or People-Of-Color (BIPOC) Telehealth Groups
White-Passing & Mixed-Race BIPOC Welcome 🌱
Group History:
These donation-based groups* began in June 2020 after [CW: racialized police violence] the murder of George Floyd, amidst both covid pandemic, and ongoing racial pandemic centered by today's modern civil rights movement. As the world continues to turn, these groups remain a landing place for BIPOC folx to reality test our racialized experiences, exist in solidarity, decolonize internalized paradigms, and deepen cultural understanding among others doing the same.
*Where donations go: 15% admin fees, 85% support the sustainability of group and facilitator(s)
Asian Adult Group:
1 session/week, 90-minutes, California residents, online video-chat, pay-what-you-may, ages 21+, Tuesday 6-7:30 PM, 8-10 members, first two weeks accepting members till capacity reached; waitlist thereafter. Centering Asian experiences, pandemic, & re-balancing in community amidst imbalances in society; co-facilitated*
BIPOC Adult Group:
1 session/week, 90-minutes, California residents, online video-chat, pay-what-you-may, 8-10 members, ages 21+, Tuesday 8:30-10 PM, first two weeks accepting members till capacity reached; waitlist thereafter. Centering BIPOC experiences, pandemic, & re-balancing in community amidst imbalances in society; co-facilitated**