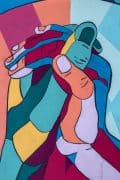 As the Director of the Center for Mindful Psychotherapy (CMP), I would like to make a statement on behalf of our organization's alliance with all people who are standing up to racism and the forces of oppression that have been conditioned in our culture.  While a statement itself is never enough, it is still important to declare our opposition to racial injustice and intolerance and its effect on all marginalized and oppressed people.  I offer these words with cultural humility, acknowledging that as a white identified person I will invariably speak with inadequacy to the needs and experience of a racially marginalized person.
As a training organization for pre-licensed Marriage and Family Therapists (Associates, or AMFTs), the Center for Mindful Psychotherapy holds as a core value the importance of making ourselves available to help all people with these critical issues of our time.  All therapists within the licensing system in California are required to take courses in cultural competency. Academic learning, however, while important, is not nearly enough to address the systemic racism in our culture and more specifically in our profession.
To people of color who are seeking psychotherapy services, please know that CMP as a community is committed to working with you in the best way we can at this time.  We currently have one (AMFT) staff member who specifically specialize in working with issues of oppression and marginalization:
To those who identify as white or non-people of color (POC) seeking services from CMP, you may be seeking services from us for other issues besides those of internalized racism and privilege.  We will honor your needs without agenda.  We are available, however, and committed to helping non-POC identified people work on these internalized issues, as we are committed to working on these issues within ourselves.  We acknowledge that opposing racism requires more than cultural competency and intellectual understanding.  It calls on all people not identifying as POC to honestly and bravely confront the racist conditioning and privilege that comes with having benefited from a racist system. Here is a list of some additional resources on anti-racism for folks who are interested in learning more.
Psychotherapy as a profession has in general not embraced diversity as completely or effectively as one would hope.  There are far too few BIPOC people working as therapists and far too many BIPOC people who do not feel safe or comfortable accessing therapy services. Unfortunately, the current staff identity at CMP does not reflect the full cultural diversity that would be most ideal and not all clients may feel the racial twinship desired for safety and comfort to work on traumatic issues of racial oppression and injustice. Fortunately, however, there are several wonderful additional community resources we would recommend here:
We are living in a challenging time that in so many ways impacts our mental health.  The Center for Mindful Psychotherapy is committed to providing mental health resources in service of greater well being for all. An important part of this commitment is to be a resource promoting tolerance, justice, and peace both as an organization and in our private work as clinicians.  Like the culture at large, we acknowledge we have learning to do, progress to make, and blind spots to illuminate.  As in all life, I look forward to growing and evolving on this journey as we all work to create a more just, equitable, and peaceful world.
With solidarity and compassion,
Scott Balderson
Director, CMP