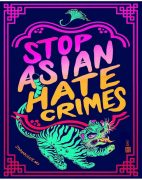 We stand in solidarity with our local Asian American Pacific Islander community, in Atlanta, the SF Bay Area and elsewhere, and those that are being targeted with hate and violence. We condemn racism and xenophobia in all its forms, and declare our opposition to these forms of intolerance and racial injustice.
We make space for, and extend holding and support around all the feelings that may be sparked around these ongoing anti-asian hate crimes, and gun violence.
We honor the impact this may be having on our AAPI Associates and our clients, and what may be coming up for you, through the fatigue of experiencing micro-aggressions or overt aggression, being projected upon, vigilance around your safety or that of loved ones, and the exhaustion of the expectations being upheld as a model.
For those of us who are white-identified, we acknowledge with cultural humility when we may respond with inadequacy to the needs or experience of a racially-targeted person. We further commit to providing our ongoing internal BIPOC Affinity Group for our Associates, and hope they provide some necessary holding, as well as our White-Identified Affinity Group (also for our Associates), for deeper self-examination and edification around whiteness, racism, and discerning action. We as a team will also continue to assess our processes, languaging, and communications to dismantle ways they uphold a dominant culture.
With care,
– Scott, Paul & the CMP Admin Team