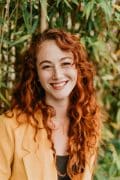 Our recent interview with Ayala Kalisher, AMFT  at the Center for Mindful Psychotherapy
What is your therapeutic orientation?
My approach is somatic, holistic and experiential. This means our work together is not just sitting and talking about what has been or how you want things to be. Working holistically means I recognize the connection between mind, body, spirit and environment. Working in any one of these realms means we're working with all of them. Working somatically means we will explore the wisdom of your body as a gateway to your emotions and the wealth of information about yourself that sometimes the mind can obscure.
Do you have areas of specialty?
Yes, Sex therapy & Somatic Therapy (Hakomi)
What other modalities inform your work?
*Hamoki ( a somatic and mindfulness based therapy method)
*Sex Therapy
*PACT Couples Therapy
Where is your office located? City and neighborhood?
Currently online only for clients anywhere in California. I will hopefully be reopening for in-person either in Oakland or Berkeley some time this year (2021).
How can people contact you?
Name: Ayala Kalisher
License #: AMFT 115859
Supervisor: Natashia Fuksman, LMFT # 93357
Phone number: (707) 536-1043
Website: www.AyalaKalisher.com
Email: ayala.kalisher@mindfulcenter.org
What is it like to work with you? How would you (or clients) say you are in the room?
I am warm and supportive. Even when you are struggling to feel yourself as worthy of your own or anyone else's support – I will be there in your corner. But do not get me wrong, being your supporter does not mean I won't be there to give you some real talk when necessary.
Who do you LOVE working with?
I love working with people who are afraid their lived experience will be too outside the box to be honest with about in therapy. Who are worries a traditional therapist might not "get them". I love working together and figuring out how we can make therapy a safe place for all parts of you.
I also love working with folks struggling with issues around sex. I know this can be an uncomfortable or often taboo subject for many so it often gets left out of what we think of to bring into therapy. Many of my clients come to me for an issue around their sexuality and then recognize how many other aspects of their life it actually is connected to. Some of the things my clients seek me out for are shame around sex, disassociation or pain during sex, or reclaiming your relationship to your sexuality after trauma or sexual assault. I want to help you find a relationship to your body and sexuality that feels good to you.
In addition I love working with current or past sex workers. Sex does not need to have anything with the work we do together. I recognize that this is your career and will impact your life like any career but not be the whole of your life. I am passionate about making sure sex workers have access to supportive non-judgmental therapy just like anyone else.
What inspires you about this work?
My clients, their resiliency and their journeys.  I am very dedicated to actively doing my own healing work but I also feel so lucky to get to learn from and heal through all of my clients work as well. Even when we may be radically different in so many ways, I am always in awe of how many human themes we all wrestle with.
What do you do outside of this work to stay inspired?
Spend as much time in nature as possible and doing things that help me stay connected to my own body. I love hiking, biking, snowboarding and dancing. Also, spending time snuggling my tiny puppy. Her unconditional and endless love are definitely an inspiration.
Best job before becoming a therapist?
I was a massage therapist for 13 years. That informed so much of how I relate to healing and the mind body connection.
Recommendation for managing moments of overwhelm:
Breath. Feel your feet on the earth beneath you. Call a friend or someone who you can trust to help you sort through it and break it down into more manageable pieces.
Recommendation for the best place to cry in the bay area:
I love a good cathartic cry on a hike in the Oakland or Berkeley hills. You can usually pop off the trail just enough to get some privacy and have a good long cry while taking in an expansive view.
Recommendation for self care practice on a budget:
Turn off your phone and your computer for an afternoon. What you do from there is up to you. Maybe it's reading a book, maybe it's making some art, maybe it's walking around Lake Merritt and having a conversation with a stranger. Just unplugging from our phones now and then can be so restorative.
Recommendation for self care practice investment:
Take a dance or art class. Community colleges often offer much more affordable options. Find some kind of class that you can take just for the pleasure of it. It is so easy to get caught up on the idea we always need to be productive and not make enough time for joy and pleasure.
Favorite non-therapy book:
I love anything by Octavia Butler or Jennette Winterson.
Favorite self-help book/ therapy book:
Come As You Are by Emily Nagoski
Favorite quote:
"If you have come to help me you are wasting your time. But if you have come because your liberation is bound up with mine, then let us work together" ~Lila Watson, aboriginal activist
Do you have any new offerings in the works this year?
I am hoping to begin a few new groups this coming year. I want to start a women's process group to support exploring healing in relationship with one another. I am also wanting to start a women's sexuality group. I am not quite sure what themes or topics this second group will focus around so if there is anything in particular that interests you that you would like to attend a group around please reach out and let me know.
Anything else to share with our community?
The vulnerability therapy asks of us can be daunting. As someone who vulnerability does not come easy to, I have had to do and continue to do my own work around this. This causes me to be continuously humbled and inspired by my clients and the work we do together. If you choose to reach out for therapy with me I already see your bravery in just choosing to begin this journey. It is an honor and one I do not take lightly, to be let in on parts of your inner world that you may not often share.