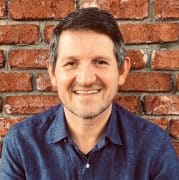 Our recent interview with Aidan Pelly, LMFT at the Center for Mindful Psychotherapy
Where is your office located? City and neighborhood?
I'm located on 211 Gough Street in Hayes Valley. I really love this central area of the city for the cafes and restaurants.
How can people contact you?
Name: Aidan Pelly
License #: LMFT 117163, APCC 4242
Supervisors: Marcia Black PhD, Michael Klein PhD
Phone number: 510-698-9096
Website: www.aidanpellytherapy.com
Email: aidan@mindfulcenter.org
What is your therapeutic orientation?
I work with both what is present now and through understanding histories and context. Through exploring what is coming up with clients in the context of what it is they want for themselves, they discover and loosen their blockages and unhelpful patterns, and strengthen their resilience, capabilities and sense of who they are. It is rewarding to see people thrive and flourish in life!
What are your areas of specialty?
Most of my clients are professionals with an engaged sense of themselves and the world. I often have special connection to those who were not born in America or have complex cultural backgrounds as I have lived and worked in so many countries around the world and am an immigrant myself.
I really enjoy working with couples. It's gratifying seeing relationships improve and being in the position to support the strengthening of trust, understanding and emotional connections. There is scope for growth and deepening in nearly every relationship and it is in the relational dynamic that we paradoxically grow most as individuals.
I also have a focus on relational trauma (any impacting effects of key relationships in a client's life) and after many years of training I am a NARM Master Practitioner. NARM is a cutting-edge synthesis of some of the most effective therapy modalities of the last 50 years that helps clients move beyond relational traumas. We all adapted to the less than perfect emotional and relational environments we grew up in. These patterns we learnt to survive in often don't serve us in our current lives. We have learnt to shut ourselves down in subtle or obvious ways, or we have become sensitive or reactive. It is really rewarding to support clients into their freedom and natural aliveness.
What other modalities inform your work?
Meditation, dreamwork, shamanic perspectives, Buddhist perspectives, expressive arts, dramatherapy, hypnotherapy, family constellations, narrative therapy, somatic experiencing and more. I'm endlessly fascinated with ways to support and catalyze healing and growth.
What is it like to work with you?  How would you (or clients) say you are in the room?
I encourage clients to own their aspirations and hopes, grow in their capacity to be with what is difficult and take responsibility for what they want and who they are. I'm also very understanding and supportive no matter what comes up.
What inspires you about this work?
There are moments when something shifts in a client, they let go of an old identification, perspective, or a sense of helplessness begins to drop away. In moments like these you can tell that in some small way things will not be the same again for them. I also believe that we are changing the world one person at a time and one person's healing has far reaching effects into their family and communities.
What do you do outside of this work to stay inspired?
Some of the things I love to do are make music, hike in nature, swim in the ocean, cook ever healthier meals, travel (I've been to around 70 countries now), read, see theatre, go to the movies, and talk with others about what keeps them inspired.
Best job (or most interesting job) before becoming a therapist?
A teacher trainer. I trained English teachers around the world and especially in Vietnam. I was lucky enough to effect change in the teaching practices in 100s of schools around the country. I also volunteer in a charitable foundation whose focus is work at the nexus of climate change, environmental degradation and forced migration.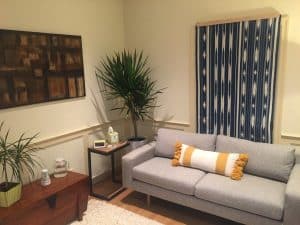 Recommendation: for managing moments of overwhelm:
Slow down. Take any self-pressure off yourself. Consciously release any tensions in your body. Practice slow breathing with the out breath twice as long as the in breath. Remember times you have got through overwhelm and the strengths you have. Get out of your head and into your body by going for brisk hike or swim to wash the angst away. Phone a friend – we're social animals and just being heard by another can help a lot!
Recommendation: for self-care practice on a budget:
Fresh air and exercise. Climb mount Tam, walking up through the trees and getting above the clouds and the city is sure to lift your spirits. Or if you can handle the cold, jump into the ocean and cleanse yourself in the invigorating Pacific Ocean.
Recommendation: for self-care practice investment:
Get knowledgeable about your sleep, diet and exercise. Anything you can do to improve good habits around these three pillars of your life could be some of the most important investments you make in your life. So many people don't respect the importance of these basic pillars.
Favorite non-therapy book:
Being an open-minded bibliophile that is way too challenging a question, though I loved reading Swing Time by Zadie Smith recently.
Favorite self-help book/ therapy book:
This is also a difficult question, but Hold Me Tight, by Sue Johnson is a great way for clients to understand attachment in a positive way that helps foster good strong connected relationships.
Favorite quote:
"Know yourself" engraved at the entrance to the Temple of Apollo at Delphi. It is really instructive, I think, that the place in the ancient western world where people came for 1000 years to get their answers to their most pressing questions gave such prominence to knowing yourself.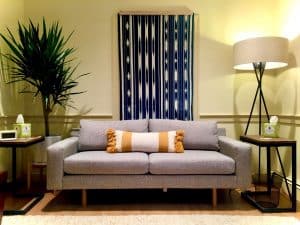 Do you have anything in the works? Are you running a group or thinking of creating something new in your practice? Are you taking a new training or offering a workshop? Even if it is not realized yet, please share it with us.
I'll soon be offering a Cultivating Emotional Balance group. This work blends some of the best research based scientific knowledge of emotions with contemplative practices drawn from Buddhist traditions. The program was put together by scholar monk Allan Wallace and psychologist Paul Ekman at the request of the Dalai Lama. Let me know if you are interested to know more!
Anything else? Closing words or something about who you are/ how you identify that you would like to share?
Real growth can be challenging. It is important to have someone who is your ally. Someone that can both support you and challenge you to proactively stand up to the problems and realize your life's calling.